Statistics
Members Online
0
Visitors Online
61
Members chatting
0
Registered Members
16,872
Submitted Pictures
247,453
Times Voted
2,453,182
New Members Last Month With Pictures
3
Members Birthdays
1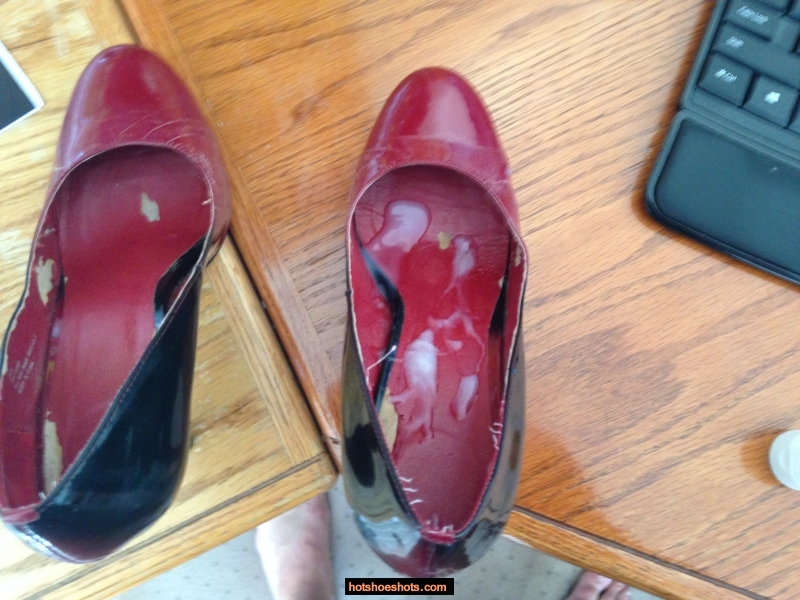 Goto Top
fillinghershoes's pictures (6)
Goto TopUser Profile
Member Since
27-January-2009
Channel
Shoejobs cum shots
Age
52
Location
Homepage
No homepage set.
Self Description
Goto TopLatest entry on fillinghershoes's blog
Surprise in her shoes. posted on 04-April-2012 23:11
We just got back from a weekend in New York. My wife Jen can sleep on planes, but I knew the redeye flight we took would leave me exhausted, so I made sure I took Monday off.
Jen was getting ready for work, and came back into the bedroom wearing a jumper style dress, and started looking for the shoes she wanted to wear to work that day – we keep her shoes right next to the bed for easy access, and since she goes to work before I do, I get a shoe show every morning as she tries on different shoes and looks for the right pair.

http://hotshoeshots.com/member_images/e3/0d/pictures/9437-268921.jpg

After trying on a few different pairs, she decided on her black Bandolino wedges with a stacked wood heel. She posed side to side looking at her shoes while I was still sitting up in bed, and said "Make sure you think about me while I'm at work today." She gave me a quick wet kiss, and took off out the door. After the shoe show I just got, my morning wood was aching for relief. I would be thinking about her for quite a while after she left.

http://hotshoeshots.com/member_images/cd/eb/pictures/9437-158237.jpg

I got up and helped myself to her newest shoes – a pair of white patent Nine West kitten heels that I have been fucking non-stop since she got them.

http://hotshoeshots.com/member_images/24/59/pictures/9437-268920.jpg

I tried to take my time, but between my usual morning boner, the hot shoe show I had just gotten, and these amazing pumps right in front of me, the pressure in my cock and balls quickly became too much for me and I couldn't hold back any more. I held her empty shoe in front of my cock to catch the jizz, and felt the orgasm start to tighten inside my balls. Within seconds, cum gushed through my cock like someone turning a fire hose on and off.

Now with some of the pressure off, I could take my time and savor the sensations Jen's sweet little pumps had to offer. The feeling of the cool smooth white patent leather against my skin was amazing. My slippery cum inside her shoe was the perfect lubricant, and my helmet twitched toward the toe of her pump like it had a mind of its own. I started sliding my dick into the toe box, nice and slow at first, but harder and faster with each stroke. Watching the toe of the shoe swell each time it received my cock, and feeling the pointy toe of the pump squeeze the head of my rod as it pushed deeper and deeper into the toe was heavenly. I savored the sensation of her shoe-pussy for a while, but as my organic lubricant started to dry from the friction and heat I was generating in her heels, the shoes started squeezing my knob more and more forcefully with each thrust. I felt my balls start to tighten again, and knew there was another load of spunk on the way into her hot, soft, slippery shoes.

I flooded the inside of her shoe again – the creamy white cum loads were mixing together and sliding around on the gold insole of her shoe as I tipped it back and forth. It was soaking into the gaps at the sides of the insole and leaving a sticky mess to remind her the next time that she wore them that I had missed her while she was away. I did my usual half assed job of cleaning up the mess, pouring the loads out of the heel, making sure I left some love in the shoes and stains in the heel cup for her to notice the next time she went to wear them.
Jen got home later that evening, and after dinner and some chitchat about work, she went to change out of her work clothes. She came back out to the living room smiling and giggling and said "I saw the present you left for me in my Mary Janes." I was confused, so I asked her what she was talking about. She knows that her Mary Janes had been my go-to cum catchers for a while, but I knew I hadn't done anything with them since she had worn them to work last Thursday - before we left for New York.

I followed her into the bedroom and back to her shoe rack to see what she was talking about, and she picked up her Mary Janes off the rack, and handed me the right one. "See what a mess you left? I would have expected more, but I guess I really ran you dry this weekend." Jen smiled and giggled again, pointing to cum stains all over the nylon inner lining by the arch, and the dried puddle on the insole of the right shoe.

http://hotshoeshots.com/member_images/d8/ae/pictures/9437-268965.jpg

I looked at her a bit puzzled, and told her "I've been playing with your new white pumps since you got them. I haven't used these in quite a while. You wore your Mary Janes to work Thursday, we left for New York Friday, and you didn't bring them with you. The cumstain wouldn't have survived you wearing them at work all day." I grabbed the white pumps, and showed her the new damp spots and stains inside.
Jen looked me for a second, and realized that I hadn't left the new stains in her Mary Janes. I asked "Did you change into a different pair of shoes at work or something on Thursday?" She shook her head no. We paused for a second, then almost at the exact same time it dawned on us what must have happened.

http://hotshoeshots.com/member_images/f6/ce/pictures/9437-268966.jpg

When we landed in NY we both had a strange text from our next door neighbor. He claimed there were some lights left on in the house, and wanted to know if it was OK to use the spare key we left him to go in and turn them off so it didn't run up our electricity bill. I looked back at the text – we landed in NY just after 8 PM. It was dark in NY, but it was still bright daylight at home!!! There's no way he would have seen a light on inside the house - the sneaky little shoefucker had come over while we were away and dropped a load in Jen's shoes!

http://hotshoeshots.com/member_images/f6/ce/pictures/9437-268966.jpg

I was a bit pissed off at first as I stood there thinking about it, but the swelling and tightness in my groin overpowered any other feelings I had at the moment. I wondered how Jen was going to react. Would she be pissed off? I found out pretty quick.

She kicked off the wedges she was wearing, and pulled the cum stained Mary Janes on to her feet in the blink of an eye. She quickly shucked off her underwear from under her dress and bent over the bed, pulling her dress up over her ass to expose her pussy. I could see how excited she was, her pussy was all puffed up and pink, and her lips were pushing out and starting to glisten as her honey hole got wetter by the second. She pushed up her ass by arching her back while she rested on her elbows, and with her feet together rose up on her tiptoes to make sure I had easy access and a good view of her shaved snatch. Jen turned her head, and looked back over her shoulder as if to say "What the fuck are you waiting for?" I yanked my jeans down and off over my feet so hard I almost fell over. My dick got hard so fast that by the time it got free of my pants, it sprang loose and was jutting almost straight up.
I put my left hand on her ass, and pushed my cock down toward her waiting pussy with the other hand. A couple of quick swipes against her swollen pussy lips with the head of my dick, and my helmet was soaking wet and slippery from her steamy juices. I grabbed her hips with both hands so I could enter her with a hard thrust, but her pussy was so slick and my dick was straining up so hard that it popped up and out of her hole before I could start to slide it in to her. My legs were trembling with excitement like I was a teenager getting laid for the first time, and I fumbled forward, grinding the underside of my dick and balls against her sopping wet pussy. She moaned softly in response to the pressure and gentle stimulation, and begged me to stop teasing and fuck her.

I pushed my dick down again, and parted Jen's pussy lips with the head of my dick, making sure I got enough inside so it wouldn't slip out. Her pussy was so swollen with excitement that it was tight as a vise, and I could feel it trying to push the head of my dick back out. Even with her gushing wetness, her I had to pull her hips and push hard to force her pussy to open up and take my cock. Jen moaned softly with pleasure as the head of my dick started to stretch her tender little hole open. I could feel the depths of her pussy resisting my entry as I slowly pushed further and further in, driving her higher on to her tiptoes in her nasty little Mary Janes.

I ground my hips hard up against her sweet ass, enjoying the intense pressure the deepest part of her pussy was applying to the tip of my cock. Jen was so wet by this point, it felt like warm butter was being poured all over my groin and balls. Her pussy was still so tight and sensitive from the excitement that we would have to start slow. I pulled back out slowly to the tip, and pushed back in slowly a couple of times.

After some slow pumping, Jen started pushing her ass back against my cock hard to take it all the way in. This was the green light, and she was finally ready to take some serious fucking. I tightened my grip around her waist, and started pulling on her hips, slamming my cock deep into her for all I was worth. I could hear her pussy squishing and slurping with each stroke of my cock, every thrust ending with a wet slap as my balls and groin pounded against her soaking wet hole. She started to shudder and shake with an orgasm, and I could feel a flood from her pussy as it started to twitch and spasm, clamping down on my cock even tighter.

This was all too much for me to take, and I could feel my balls getting tight again as I got close to the point of no return. I kept pumping her pussy like a freight train while she kept cumming, her head rocking back, her eyes clenched shut, and her mouth hanging open with a moan of ecstasy. She was holding on to the bunched up bedding tightly in her fists trying keep her elbows under her as her legs started to shake. I held her up with my hands on her hips, and with several final deep thrusts, I started to shoot her already drenched pussy full of what felt like a gallon of spunk. I paused for a few minutes before I backed my dick out of her drenched, gaping abused hole and collapsed to the left on my side on the bed next to her, panting heavily to catch my breath from the force of our furious fucking. Jen's arms gave out and her upper body dropped on to the bed as she tried to catch her breath too, but she kept her ass propped up in the air with her legs over the side of the bed. With the heat of her feet from all the action, the original cum stains in her right shoe had to be a sticky mess all over her foot by now.

Jen bent her knee and lifted her left foot behind her, and reached back pulled the Mary Jane off her left foot. She started to prop herself up on the bed with her right arm, holding the toe of the left shoe in her hand. She looked between her legs, parted her thighs, and slid the shoe between her legs so the opening was under her pussy. She stood up, and pushed out a massive glob of my cum and her juice from her pussy, right into the shoe so I could see it. Between my cum and hers, the mess was huge – several times the size of a load of cum by itself. She put the shoe back down on the floor and looked at it. I sat up quick so I could see what it looked like too. The entire bottom of shoe was filled with our cum, completely covering the insole from the arch forward, and there was a shiny trail down the instep from where it originally landed as it gushed out of her pussy.

She looked up at me and smiled, then looked back down and pushed her toes right into the mess. There was so much of our cum mix in the shoe that I could hear it squelch as her foot seated into the shoe, and it bubbled up between her toes and overflowed on to the toes and sides. She turned around and sat on the bed and laid back next to me, and set her Mary Janes up on the bed with her knees in the air. She wiggled and curled her toes in the cum, enjoying the feel and sound of the huge mess we made squishing around in her shoe.

She looked over at me and asked "Do you cum in other women's shoes too without them knowing about it?" Oh shit, what do I say? Even though she seemed to like finding cum in her shoe tonight, would she consider me cumming in another woman's shoes cheating? Fuck it, I rolled the dice and told her the truth. "Sometimes I do. If I wind up with the opportunity to cum in a great pair of shoes, I'll do it. But I, don't take the shoes to keep, or take chances that would get me in trouble." She thought about it for a second, and I wasn't sure what her reaction would be. I hoped she wouldn't get upset or ask me not to do it. She looked over and smiled and said "I guess I'll have to start borrowing shoes from my friends then, so we can play with them and give them back. Let me know when you see one of my friends or coworkers wearing shoes you like, and I'll try to borrow them for us for a weekend sometime."

I really love my wife!

Click Here To See Full Blog
Goto Top Channels and Groups

Sexy Shoes Channel

Flat Shoes, High Heeled Sandals, Mules, Stiletto Heels, Extreme Heels

Shoe Sex Channel

Shoejobs cum shots, Shoe Fucking, Female shoe play, Wet messy trashed, Sneaky shots, Found shoes

High Heel Lifestyle Channel

TG/CD in heels, Fem Dom heels, Couples, Cuckold Shoe Slaves, Men in heels

Boots, Sneakers 'n more Channel

Sneakers, Platforms, Wedge Heels, Boots, Slingbacks

Hot Foot Channel

Flat Sandals, Wooden sandals, Toe Cleavage shots, Dangling, Bare foot shots, Trample shots