Statistics
Members Online
2
Visitors Online
58
Members chatting
0
Registered Members
15,202
Submitted Pictures
223,266
Times Voted
2,402,504
New Members Last Month With Pictures
3
Members Birthdays
1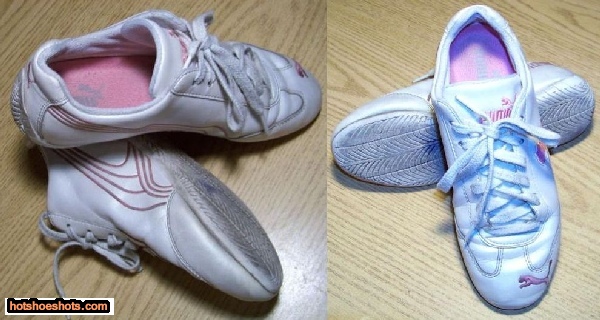 Goto Top
cuminshoe's pictures (6)
Goto TopUser Profile
Member Since
05-May-2007
Channel
Sneakers
Age
42
Location
Homepage
No homepage set.
Self Description
Fucking a woman's shoe is like fucking her in some way...especially if it's a girl you will never get a chance to fuck. The thought of being able to fuck and cum in the shoes of someones girlfriend or wife, whether they know it or not, is a MAJOR turn on.
Goto TopLatest entry on cuminshoe's blog
My Girlfriend's Keds posted on 24-June-2011 19:07
During the winter months, my then girlfriend (now fiancé) likes to wear her ankle socks around the apartment (she says her feet get cold.) Sometimes she'll even go to bed with them on and then take them off in the morning. She still has no idea that it turns me on.

Well, one past New Year holiday we decided to spend it with some of our friends (her co workers and their husbands) at a resort-type place. About two and a half weeks before the trip, I noticed my girlfriend wearing a new pair of white Keds-style shoes called "Basic Editions."

During those weeks, she changed into them after work and I swear, it was such a turn on!! At first I couldn't wait to have my way with them but I decided to see how long I could hold off. And with my shoe fetish, it was kinda tough. Especially when we'd be watching TV and she would move her foot in circular motions. It would drive me crazy! Just the way her shoe curved around and looked on her foot. A couple of times I almost gave in.

Two and half weeks went by without me touching them when we left for our trip, and to my surprise, she took the shoes with us. On the way down to the resort, the thought of those shoes tucked away in her suitcase kept popping into my head. (She wore her light blue Saucony running shoes on the trip down; and had another pair of black casual dress for the New Years night celebration.)

At the resort she wore the Keds inside and around the hotel. At night she would leave them on the floor by to the table chair next to her running shoes. For New Years we both partied and celebrated with our friends. The next day, as you might imagine, I was feeling hung over. Since we weren't leaving for another day, that evening my girlfriend wanted to eat at this fancy place. I still wasn't in the mood so everyone left without me.

I just hung around the hotel and it wasn't too long when I started feeling the "hang-over hornys", (as we call it.) Since she wore her running shoes to go eat, I knew her white "Basic Edition" Keds were on the floor of the room. And I couldn't wait to finally get my hands all over them.
When I got to the room I locked the door and turned off the lights. I went over, picked up her shoes and held them up to my nose. I began sniffing her three week old shoe odor. As horny as I was, I took as much of a deep breath as I could. Her musky odor went right up my nostrils. I even squeezed the toe area with my fingers to make the odor come out even more.

It got me so aroused, I took off my clothes and leaned back on the bed. I rubbed the other shoe against my hard-on, finally letting my dick feel the outside of it--especially the "inner arch" area. The soft cotton canvas was nice and smooth. I even rubbed my dick all over the shoe lace area to feel the ribbed sensations of it.

Finally, I stuck my cock inside the shoe and let it slide in as far as it could go. The sensitive tip area rubbing against the insole felt good that I applied pressure from my fingers and thumb—gently squeezing the outside of the shoe. After some long stroking, I couldn't take it anymore! I got up, leaving the shoe on my dick, and crawled into bed. I turned over on my stomach--holding her right shoe by the toe area while adjusting the pillow under it, and began humping it. Using the pillow as leverage, it left perfect between my legs as I rested my girlfriends shoe on it. I held the left shoe by the toe area by my nose.

I grinded my cock all over inside. I just closed my eyes and let my nasty desire take over. I replayed every moment I saw her wearing these shoes. I felt so nasty, I began my usual licking out as much of the insides of one as I could. I even sucked the top of the toe area, enjoying every curve. I remember I couldn't believe she wore these shoes.

After a long good fuck, I shot all over inside of it. It was great!! I rolled over; leaving myself in the shoe, and enjoyed the best shoe fuck I had in weeks. My hard-on began to go away, and I could feel the wetness inside. When I was no longer hard, I took the shoe off and looked inside, staring at the mess I had made. The cum was soaking into the sole. I held it up to my nose and smelled the warm odor of her musky scent and my cum. I clean myself up by wiping my dick on the outsides along the arch area of the Keds. Her shoes were still warm from me fucking one and holding the other. I put them back next to the chair, leaving my cum soaking in it, and went to take a shower. 30 minutes later, my girlfriend called and said they were enjoying some type of entertainment that was going on, so they'd be back in another hour. It was fine with me. I was occupied.

About twenty or so minutes went by when I began think about what I had just done to her Keds, and it got me aroused again. I went over and picked up the left shoe and placed it on the table. I pulled down my trunks and stuck my dick inside it. Holding the shoe with both hands, I bent forward and began fucking it over the table. After another nasty session, I squirted another load in it (not as much came out this time) but it was enough to satisfy my urge. As with the other shoe, I left my cum to soak inside. When my girlfriend came back we talked, watched TV together in bed before going to sleep.

The next morning we packed up and began our day and a half drive home. On the way home she wore the Keds. I knew the cum was already dry when she put them on so I didn't have to worry about her suspecting anything. But it was arousing to see her wearing them—knowing I had fucked the hell out of them! On the way home, I couldn't help but secretly look down to see those shoes on her feet. She had no idea that they were full of my cum. I kept thinking how warm they were at that moment with her wearing them.

We got home in the evening, so she took off the Keds by the door and went in the bedroom to unpack. When she got out of sight, I picked up the shoes and began sniffing them. The odor was a little different but still wonderful. The warmth of them was a bonus.

After that whenever she wasn't around and left the Keds by the door, I sniffed and fucked them over the couch. She had no idea that I was doing this.

Sadly a few months later I noticed the Keds weren't in the apartment anymore. I didn't ask so I don't know but she must have thrown them away.

*I wrote this a few years ago for another group (someone might remember) but I re-posted it here.
Click Here To See Full Blog
Goto Top Channels and Groups

Sexy Shoes Channel

Flat Shoes, High Heeled Sandals, Mules, Stiletto Heels, Extreme Heels

Shoe Sex Channel

Shoejobs cum shots, Shoe Fucking, Female shoe play, Wet messy trashed, Sneaky shots, Found shoes

High Heel Lifestyle Channel

TG/CD in heels, Fem Dom heels, Couples, Cuckold Shoe Slaves, Men in heels

Boots, Sneakers 'n more Channel

Sneakers, Platforms, Wedge Heels, Boots, Slingbacks

Hot Foot Channel

Flat Sandals, Wooden sandals, Toe Cleavage shots, Dangling, Bare foot shots, Trample shots